English 122: Free Speech, Censorship and Copyright from the Declaration of Independence to Napster
---
Professor Warner
Office: South Hall, 2507

Office hours, Friday, , and by appointment

warner@english.ucsb.edu

Meeting room:
English Department Media Classroom, South Hall 1415

Tuesday and Thursday,

Webmasters and media masters Workshops: Friday, , South Hall 1415
overview | schedule | assignments | links | student projects | UCSB English | Transcriptions LCI
---
Jan 7: Introduction 
What is free speech? Have you ever been censored? Why? Can there be culture without censorship?
Introduction to Free Speech, Censoship and Copyright [slide presentation]
Examples of pushing the limits of speech: Nuremberg files; Campus Watch; Spencer Tunick
---
Jan 9: The Debate about Free Speech
Reading:
Stanley Fish, "There is no such thing as free speech, and it's a good thing too!" [handout]




Assignment: Due Jan 9: Write a 2 page conceptual outline of Stanley Fish's essay.

Jan 10: Workshop on Webpage editing
---
I. Origins of the First Amendment Tradition
Milton's Areopagitica (Slide Lecture)
Jan 14: The Concept of Unlicensed Printing: Milton's Areopagitica
Reading:
*John Milton, Areopagitica: A Speech for the Liberty of Unlicensed Printing, to the Parliament of England (1644)
---
Jan 16: The Idea of Toleration: Locke

John Locke on Toleration (Slide Lecture)
Reading:
*John Locke, A Letter Concerning Toleration (1685/ 1689)
Presentations: Laura Turner; Nicole Shamsian
---
Jan 21: The Free Speech of the Citizen
The Declaration of Independence considered as Speech (Slide Lecture)
Reading:
*Trenchard and Gordon, "On Freedom of Speech: That the same is insearpable from publick Liberty", Cato's Letters (1720)
Presentation: Jessica Rogers

Declaration of Independence:
Jefferson draft: Kevin Ricks
Official version adopted by the Continental Congress: Adam Blitz
Assignment: Formation of teams, with random access to finalize the 12 teams. 
---
Jan 23:  Free Speech as a Right, and the Sedition Act of 1798
Limits on Speech in Times of War: from the Sedition Act of 1798 to the Espionage Act of 1917 (Slide Lecture)
Reading:
Constitution
Bill of Rights: Andrea Walden-Morden
Anthony Lewis, Make No Law,
Chapter 6, "The Meaning of Freedom,": Erin Nicholson
Chapter 7, "The sedition Act": Lucia Freschi
---
Jan 24: Workshop: Dreamweaver, and downloading content from the Web (Melissa Stevenson assisting)
1:00-3:00PM
SH 1415 and SH 2509
---
II. Free Speech/ Sedition
Limits on Speech in Times of War: from the Sedition Act of 1798 to the Espionage Act of 1917 (Slide Lecture)
Jan 28: WWI and the Espionage Act: Scheck and Abrams
Reading:
*Lewis, chapter 8, "World War I": Crystal Carrera
Gunther (in reader), 1008-1020

Schenck v United States: Jill Staats
Abrams v United States: Michael Funes

---
Jan 30: Holmes and Brandeis in dissent: Masses and Gitlow




Reading:
*Lewis, chapter 9, "Holmes and Brandeis dissenting"
Gunther, 1020-1031
Masses v Patten: Stephen Cohen
Cartoons from The Masses (1912-1918)
Gitlow v New York: Amir Tikriti

---
Jan 31: Workshop for teams on Advanced Search Techniques (including Google and Lexus/Nexus)
Leader: Michael Perry
Time: 1:00-3:00PM
Place: Transcriptions Studio: SH 2509
---
Feb 4: Whitney v California and after




Reading:
*Lewis, chapter 10, "'The Vitalizing of Liberties'": Trish Dexter
Gunther, 1031-1035
Whitney v California: Tyler Rosenblatt

Moot Court Debate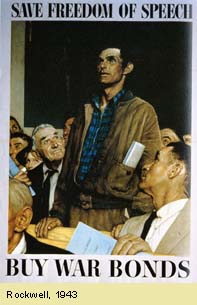 ---
Schenck v United States:
Schenck, Jill Staats
Defense attorney, Adam Blitz
Prosecution, Amber Kaminsky
Justice Holmes, Andrea Walden-Morden
---
Abrams v United States
Abrams, Michael Funes
Defense attorney, Chris Munoz
Prosecution, Lucia Freschi
Justice Clark, Clayton Pence
Justice Holmes, Brett Hack
---
Masses v Patten:
Masses publisher, Stephen Cohen
Defense Attorney, Crystal Carrera
Prosecution, David Connors
Learned Hand, Erin Nicholson
---
Gitlow v New York
Gitlow, Amir Tikriti
Defense Attorney, Megan Patton
Prosecution, John Sefton
Justice Sanford, Kevin Ricks
Justice Holmes, Laura Turner
---
Whitney v California:
Whitney, Tyler Rosenblatt
Defense attorney, Yas Shamsian
Prosecution, Sarah Bacon, Ashley Handlan
Justice Brandeis, Zaviaire Williams
---
Wednesday Friday, Feb 5: Screening of The Birth of a Nation:
SH 1415,
---
III. Free Speech/ Obscenity: Censorship of Art (?!)
Feb 6: A brief history of obscenity prosecution; or the pleasure of pushing the limits 
Cultural Censorship (Slide Lecture)

Readings
Spencer Tunick
---
Friday, Feb 7: Screening of The Birth of a Nation:
SH 1415,
---
Monday, Feb 10: Screening of The Birth of a Nation:
SH 1415,
---
Feb 11: "Writing History with Lightning": D.W. Griffith's The Birth of a Nation (1915)
The Birth of a Nation (Slide Lecture)   
---
Feb 13:
Hollywood
and Censorship: from the ratings board to the ratings system






Reading:
Frank Miller, Censored Hollywood: Sex, Sin, & Violence on Screen. Atlanta: Turner Publishing Co., 1994. Presentation: Zaviaire Williams, Clayton Pence
Recommended media text: D.W. Griffith's Intolerance (1916) as a response to the censorship of The Birth of a Nation

Resources: Motion Picture Academy of America

Lead Questions:
What are the salient differences between the "production code" developed by the Motion Picture Producers and Distributors of America (MPPDA) under the leadership of Will Hays starting in 1921, and the rating system developed under the leadership of Jack Valenti after 1968 by the Motion Picture Association of America (MPAA)?
The MPAA describes its system as a "voluntary movie rating system." Is it voluntary? Is it a form of censorship?
How does the ratings system affect the creators of American film?
How does the ratings system affect your choice of films?
---
Feb 18: Catherine MacKinnon, Only Words
MacKinnon on Pornography: Speech versus Equality (Slide lecture)
Lead questions:
pp. 3-6: Why does MacKinnon write about the photographic scene for the production of porn the way she does?
pp. 10-11: Why does MacKinnon find the first amendment framework as inappropriate for dealing with porn?
pp. 38-39: Why does MacKinnon find Holmes on the Espionage act an inappropriate context for thinking about the harms to women of pornography?
Worksheet Outline: Reading MacKinnon's Only Words as Anti-Porn, Anti-Media Polemic
Only Words, Chapter 1-2, 1-68: Ashley Handley
---
Feb 20: Debating Catherine MacKinnon

Susie Bright Web-page: the pro-sex position
Reading:
Only Words, Chapter 3, 71-110: Amber Kaminsky; Chris Munoz
Suzie Bright, "The Prime of Miss Catharine MacKinnon"
Assignment due Feb 20: Team project web page with 5 elements: overview page, annotated links, annotated bibliography, timeline, digitized media. 
Team Project Page
---
Feb 25: The Case of Robert Mapplethorpe: is it porn or is it art?
The Robert Mapplethorpe Foundation, the Official Site
The Photography of Robert Mapplethrope: slide lecture
Reading:
From Culture Wars: Documents from the Recent Controversies in the Arts: Megan Patton
---
IV. Free Speech, Censorship and Copyright after the Internet

Feb 27: : Media mutation: the Networked computer and the problem of speech and copyright 

Reading:
---
March 4: Exam review: Overview of the 1st Amendment Tradition
---
March 6: EXAM: matching, quote identification, 2 short essays
Recommended steps in studying for the exam, which functions as the course's check on how well you have understood the reading.
Read each assigned essay in the class
Use your class notes and the on-line slide lectures to focus in on key passages
Outline the central concepts and themes of the free speech theorists and cases we have read: Fish, Milton, Locke, Trenchard & Gordon, the Declaration, the Bill of Rights, the Espionage Act cases, the Obseneity trials (Joyce, Lawrence), The Birth of the Nation controvercy, MacKinnon, and controvercy around the NEA
Read the review materials I will added to our web site by next Tuesday

Here is a Overview of Salient Episodes in the struggle between free speech and censorship in media.
---
March 11: The Internet and Free Speech




Reading:

Pushing free speech limits
---
March 13: The Internet and Copyright
Reading:
Code and Other Laws of the Internet, Chapter 10, "Intellectual Property," 122-141.
The Case of Napster and beyond
Assignment: Quiz on Lessig readings 
---
March 18: Final "Exam": Project Presentation
Final Exam Meeting time and place: Final team project presentations
Final individual papers due (online and as printed text)
---
overview | schedule | assignments | links | student projects | UCSB English | Transcriptions LCI