---
---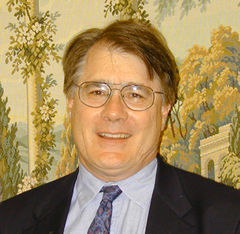 William Beatty Warner
Professor, English Department
Director: UC Digital Cultures Project
U. of California, Santa Barbara
Santa Barbara, CA 93106-3170
fax: (805) 893-4622
email: warner@humanitas.ucsb.edu
Education: B.A., Chinese Literature, University of Pennsylvania, 1968
MA. Ph.D, English Literature, Johns Hopkins University, 1977

---
---
[Space for Profile]
Modern Media, Theory, and Digital Cultures
Recent talks:
Media Determinism and Media Freedom after the Digital Mutation: The Matrix and Napster
Media technology ambivalence: Novel reading, TV watching, Web surfing
Recent courses:
Books:
Cultural Institutions of the Novel, ed. with Deirdre Lynch, Durham and London: Duke University Press, 1996, 488 pp.
Chance and the Text of Experience: Freud, Nietzsche, and Shakespeare's Hamlet, Ithaca: Cornell University Press, 1986, 308 pp.
Articles:
"Spectacular Action: Rambo, Reaganism, and the Cultural Articulations of the Hero," Cultural Studies, ed. Nelson, Grossberg, and Triechler, Routledge, 1992, pp. 672-688.
"The Resistance to Popular Culture," American Literary History, 2:4, 1990, pp. 726-742.
"Treating Me Like an Object: Reading Catharine Anne MacKinnon," Feminism and Institutions, ed. Linda Kauffman, Blackwell's, 1989, pp. 90-126.
"Spectacular Seduction: The Case of Freud, Masson & Malcolm," Raritan, 6:3, 1987, pp. 122-136.
"A Nuclear Analysis of the Korean Airline Disaster," with Richard Klein, Diacritics, 16:1, 1986, pp. 2-21.
"Dior's Designs," Word & Image, 2:3, 1985, pp. 351-379.
"'Love in Life': The Case of Nietzsche and Lou Salome," The Victorian Newsletter, Spring, 1985, pp. 14-17.
"Reading Rape: Marxist-Feminist Figurations of the Literal," Diacritics, 14:4, 1983, pp. 12-32.
"The Play of Fictions and Succession of Styles in Ulysses," The James Joyce Quarterly, Vol. 15, Fall, 1977, pp. 18-35.
Eighteenth Century Media Culture
Recent talks:
Recent courses:
Books:
Licensing Entertainment: The Elevation of Novel Reading in Britain (1684-1750), Berkeley: University of California Press, 1998, 325 pp.
Reading Clarissa: The Struggles of Interpretation, New Haven: Yale University Press, 1979, 274 pp.
Articles:
"Novel Readers Reading," Eighteenth Century Fiction
"The Transport of the Novel," (Introduction with Deirdre Lynch), Cultural Institutions of the Novel, Durham and London: Duke University Press, 1996, pp. 1-10.
"Formulating Fiction: Romancing the General Reader in Early Modern Britain," Cultural Institutions of the Novel, Durham and London: Duke University Press, 1996, pp. 279-305.
"Licensing Pleasure: Literary History and the Novel in Early Modern Britain," The Columbia History of the British Novel, ed. John Richetti, New York: Columbia University Press, 1994, pp. 1-22.
"The Elevation of the Novel in England: Hegemony and Literary History," ELH, 59, 1992, pp. 577-596.
"Social Power and the Novel: Foucault and Transparent Literary History," Eighteenth Century Fiction, 3:3, 1991, pp. 185-203.
"The Social Ethos of the Novel: McKeon's Not So Social Allegory of the Novel's Origins," Criticism, 32:2, 1990, pp. 241-253.
"Taking Dialectic with a Grain of Salt: A Reply to McKeon," Diacritics, 20:1, 1990, pp. 104-107.
"Realist Literary History: McKeon's New Origins of the Novel," Diacritics, 19:1, 1989, pp. 62-81.
"Redeeming Interpretation," Eighteenth Century: Theory and Interpretation, 26:1, 1985, pp. 73-94.
"Proposal and Habitation: The Temporality and Authority of Interpretation in and about a Scene of Richardson's Clarissa," Boundary 2, Vol. 8, Winter, 1979, pp. 169-200
Other projects:
---
Webmaster Robert Hamm | Page Content William Warner and Robert Hamm
Created 1/3/01 | Last Modified 1/5/01